Signed and Encrypted File Transfer
Sending files used to be easy, just attach them to an email. Unfortunately files are now getting so big that sending them via email is not possible. Anything over 20MBs is likely to be rejected by your email system.
SHIFT is here to resolve this issue. SHIFT has all the benefits of sending files as attachments without the size limitation.
Files are signed and encrypted using PKI certificates.
SHIFT complies with the security requirements of the NZISM.
An Organisation User, anyone with a SHIFT gateway, can send and receive files to any other SHIFT user in any SHIFT organisation. Public Users are individuals who been invited to use SHIFT by an Organisation User.
User authentication is either via a local account, with mandatory 2FA, or via an organisation's Active Directory.
SHIFT can be used as a module of SmartGate/SEEMail or as a standalone solution.
SEEMail/
SmartGate
Integration
SHIFT is an add-on module to the Liverton Security SEEMail and SmartGate server. If you already have our SEEMail gateway, then SHIFT is ready to be used. You do not need to be a user of SEEMail to use SHIFT.
SHIFT uses the same encryption mechanism as SEEMail, including SEEMail certificates and encryption algorithms.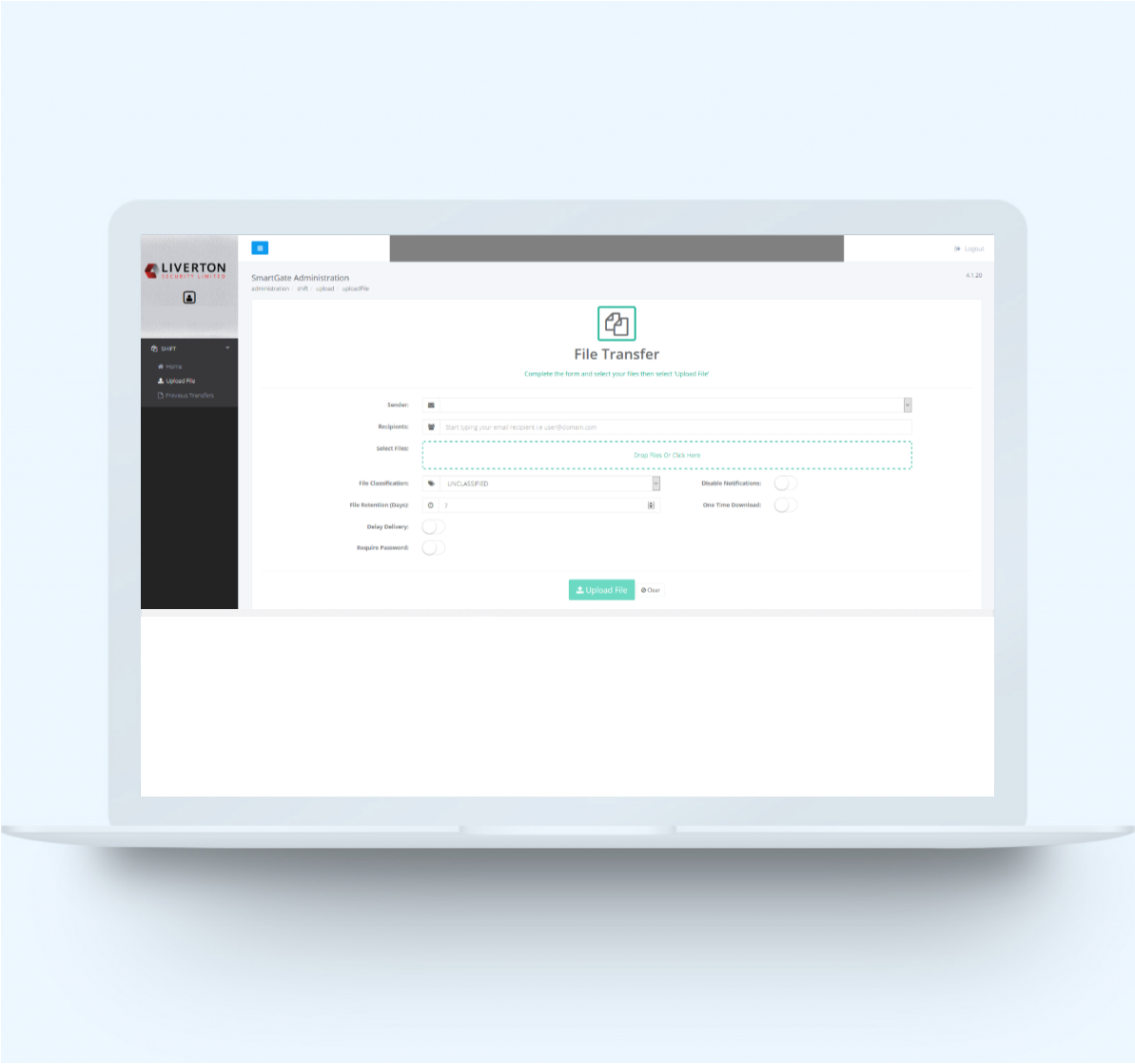 Certainty of Recipient
Files are transferred only to legitimate organisation or public users
File-Level Password Protection (optional)
Recipients need to know a password to be able to retrieve files. The password is created by the sender and communicated to the recipient by another communication channel e.g. SMS.
Defined Retention Time
All files have a retention period with a maximum of 30 days
The retention period is selected by the sender
Any file not retrieved within the retention period is deleted from SHIFT and the sender is notified
Delivery Notifications
Senders and recipients both receive notifications of the status of files in transit
Classification Tagging
Files can be tagged with a classification
Files are scanned for classification tags and will only be sent if the recipient has a matching or higher classification
Default classifications are Unclassified, Trusted, In Confidence, Sensitive, Restricted, SEEMail
Classification settings are consistent with SEEMail classifications
One-time Download
A file transfer can be flagged as one-time download. The file is deleted from SHIFT as soon as it has been retrieved by the recipient
Delivery Delay
Senders can delay the sending of a file to avoid times of peak email traffic. This is useful when sending large files which may impact on the available bandwidth of the sender, or for embargoed communications.
Administration Portal
A comprehensive management portal is available to configure and administer SHIFT. The dashboard shows the status of the server and the flow of files. Statistics, such as performance data, are available.
Contact Us Today
Get in touch with our sales team to book a demo.